The Biography Wasn't written yet. It will be, soon as possible.

Right now, the only Biography available comes from All Music Guide.


All Music Guide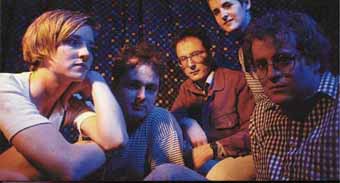 Formed from the ashes of C-86 giants Talulah Gosh, Heavenly spearheaded the twee-pop charge of the 1990s, becoming the legendary Sarah Records label's biggest international stars. The four founding members of Heavenly -- vocalist Amelia Fletcher, her drummer brother Mathew, guitarist Peter Momtchiloff and bassist Robert Pursey -- were also among the founding members of Talulah Gosh back in 1985; their new project followed in a direction similar to their previous work, retaining their trademark sweetness-and-light pop flavor but with a tighter, more mature sense of craftsmanship. Formed in Oxford, England during the summer of 1989, Heavenly debuted early the following year with their Sarah label single "I Fell in Love Last Night," a second seven-inch, "Our Love Is Heavenly," preceded the release of the mini-album Heavenly vs. Satan in early 1991. Keyboardist and backing vocalist Cathy Rogers was recruited for the full-length follow-up, Le Jardin de Heavenly; the first of the band's releases to receive an overseas release thanks to a licensing deal with Calvin Johnson's K Records, it helped further establish Heavenly as Sarah's flagship act in the wake of labelmates the Field Mice's recent demise. Another EP, P.U.N.K. Girl, appeared in 1993, and in 1994 Heavenly issued their second LP, The Decline and Fall of Heavenly. After completing 1996's Operation Heavenly, tragedy struck when Mathew Fletcher -- also the group's primary songwriter -- took his own life on June 14 of that year; Heavenly immediately ceased to exist, although the surviving members later announced their intentions to carry on under the name Marine Research.
Jason Ankeny , All-Music Guide
Copyright of this text: All Music Guide. Used without permission: information purpose only.